Sensitive Skin Moisturizer Mineral Sunscreen Spf 30
137508
IN STOCK
Share
Our Mineral Sunscreen SPF 30 protects your skin from the effects of UVA and UVB sunlight and uses only worry-free, natural sunscreen ingredients like non-nano zinc oxide, for the safest possible sun care. It is unscented, easy to apply, smooth and clear on skin.
Did you know your skin is more acidic than basic? The top of your skin has a slightly acidic 5.5 pH to help prevent bacteria from entering your body through your pores. To protect this natural first line of defense from the effects of UVA and UVB sunlight, our Sensitive Skin Moisturizer Mineral Sunscreen SPF 30 uses only worry-free, natural sunscreen ingredients like non-nano zinc oxide, for the safest possible sun care. It is unscented, easy to apply, smooth and clear on skin, making it a great protection all year long. What's more? Our mineral sunscreen is EWG VERIFIED and is a Top-scoring sunscreen moisturizer in EWG's Skin Deep® database. Get ready to safely enjoy the sun!
Available in tubes without boxes, to avoid overpacking.
Active or medicinal ingredient: Zinc oxide (20%).
Inactive or non-medicinal ingredients: Aqua/eau/water (solvent), Caprylic/capric triglyceride (emollient), Cetearyl alcohol (thickener), Cetearyl glucoside (emulsifier), Avena sativa (oat) kernel flour (soothing agent), Glyceryl isostearate (emollient), Glyceryl stearate (emulsifier), C10-18 triglycerides (emollient), Glycerin (humectant), Polyhydroxystearic acid (emulsifier), Ethylhexylglycerin (emollient/preservative), Caprylyl glycol (emollient/preservative), Xanthan gum (viscosity controlling agent), Sodium gluconate (chelator).
100% non-nano zinc oxide mineral sunscreen; safest sun care according to EWG's experts.
EWG VERIFIED and rated #1 on EWG's Skin Deep® Cosmetics Database Ecologo Certification: Sustainable and Biodegradable sunscreen.
PETA Certified: Not tested on animals.
All natural ingredients: vegan, crafted with plants and minerals only.
Coral safe sunscreen: Free of oxybenzone, octinoxate and benzophenone-3 (BP-3), all potentially damaging sunscreen ingredients for coral reefs.
Free of 4MBC and butylparaben, known as endocrine disruptors.
Free of PEGs, such as PEG-100 stearate and PEG-40 hydrogenated castor oil, contaminated with cancer-causing chemicals.
Free of phenoxyethanol, parabens, formaldehyde or formaldehyde-releasers, benzyl alcohol, and MIT – sun care preservatives of concern.
Offers broad spectrum UVA and UVB protection.
Hypoallergenic and Dermatologically-tested.
Non-greasy, clear and easy to apply.
How to apply a mineral sunscreen?
Mineral sunscreen does not penetrate completely into the skin like chemical sunscreen, it is designed to stay on the surface of the skin and reflect UV rays. Therefore, it is normal for the texture to be thicker during application. For a pleasant mineral sun protection experience, here are some tips:
Apply liberally 15 minutes before sun exposure.
Make sure your skin is well hydrated.
Do not apply the cream on wet skin.
Apply small dots of cream on the different areas of the skin and spread it gradually with the palm of your hand.
If a white layer is still noticeable, keep rubbing to better distribute it.
Reapply at least after every 2 hours of normal activity, after 40 minutes of swimming or sweating, and immediately after towel-drying.
Ask a doctor for use on children under 6 months of age.
Apply our

After Sun Melt-in Gel

on towel-dried skin after a bath or shower to lock in moisture and promote skin regeneration.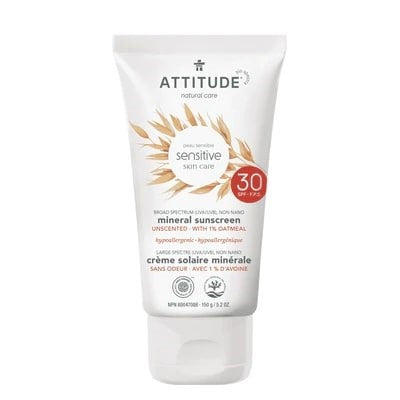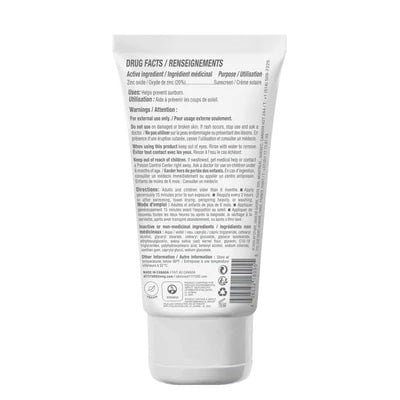 Star ingredient
Designed for sensitive and reactive skin: the mineral sunscreen for sensitive skin are enriched with oat extract and are dermatologist tested. Its hypoallergenic and fragrance-free formula reduces the risk of allergies.
Ocean Lovers
All of our sunscreens formulas are reef-friendly. They are made from natural and ingredients and do not contain ecotoxic chemical filters such as octinoxate or oxybenzone.
Frequently asked questions
There are two types of UV filters: chemical and physical. Chemical filters use active ingredients that get absorbed by the skin to block UV rays and protect the skin. Physical (or mineral) filters create a physical barrier on the skin to block UV rays. According to the Environmental Working Group (EWG), zinc oxide is considered to be the safest physical filter.
SPF indicates the amount of UVB rays blocked by a sunscreen. SPF 30 will block 97.4% of UVB rays, while SPF 50 will block 98%.
As you can see, the difference is relatively small. Although the numbers increase, your degree of protection isn't significantly better. In fact, the difference between SPF 30 and 50 is minimal—SPF 50 only blocks an extra 0.6% of UVB radiation.

Percentage of blocked UVB rays:
SPF 15: 93%
SPF 30: 97,4%
SPF 50: 98%
SPF 60: 98,3%
While titanium dioxide is often used in mineral sunscreens, it only provides partial UV protection. Zinc oxide, on the other hand, offers broad-spectrum coverage (UVA and UVB). According to the Environmental Working Group (EWG), zinc oxide is the soundest sunscreen choice. For an efficient and non-whitening product, it's important to ensure that there is a high enough concentration of non-nano zinc oxide.
Yes, all our sun care products have a broad-spectrum sun protection factor of 30* and therefore protect the skin against UVA and UVB rays. The zinc oxide that we use in our sunscreen products is considered an excellent component to block UVA and UVB rays effectively. Also, the best way to protect yourself from UVA and UVB rays is to apply adequate sun protection, wear covering clothing, hats and sunglasses, and limit the amount of time you are in the sun. *With the exception of our SPF 15 lip balm.
Nanoparticles are tiny molecules that have been nanonized (ground into fine particles). They could therefore enter the body through the outer layers of the skin. There are still many studies to be done to determine the direct impact of nanoparticles on health. But in the meantime, many scientists are playing it safe and not using nanoparticle ingredients in products that come into direct contact with the skin. In mineral sunscreens, nanoparticles minimize the formation of a white film after application and allow for a more transparent application, which is more appealing to consumers. Sunscreens containing nanoparticles are therefore easy to apply, non-whitening and lighter. According to the experts at EWG, the safest choice is a non-nano zinc oxide mineral sunscreen to create a physical barrier.11 11 https://www.ewg.org/sunscreen/report/nanoparticles-in-sunscreen/#.WwqMgy8ZNPU
To start off, we created everyday sunscreens that are not waterproof. However, we may develop new formulas in the future, so stay tuned!
Everyone is exposed to the harmful effects of the sun. However, some people are more vulnerable to the sun's harmful effects because of their skin type, genetic and hereditary disposition, and their skin's reaction to the sun. While it is true that very dark skin contains more melatonin and has a better defence mechanism than light skin, UVA and UVB rays can have negative effects on all skin types. Having dark skin can give a false sense of protection from the sun, but beware! Dermatologists therefore recommend using a sunscreen with a protection factor of at least 30 for all skin types. https://www.winchesterhospital.org/health-library/article?id=157004