Milk Thistle Oil
Milk Thistle Oil
MTHISTLE100-CAN
100 ml
IN STOCK
Share
Perfect Press® Milk Thistle Oil has a smooth, malty taste that many people enjoy. This rare, remarkable oil is a highly sought-after source of natural fatty acids.
Every bottle contains the oil of thousands of Perfectly Pressed organic seeds. Our unique pressing process ensures that there is no damage to the nutritional properties. The finished product is stored in UV-protective Miron glass bottles to maintain quality over time. Zero damage equals zero rancidity.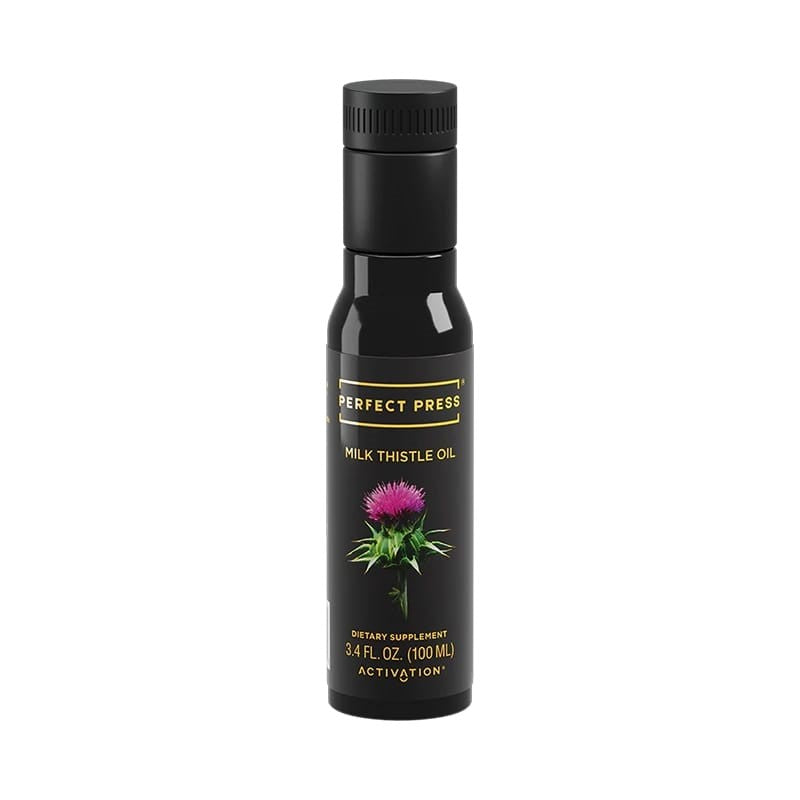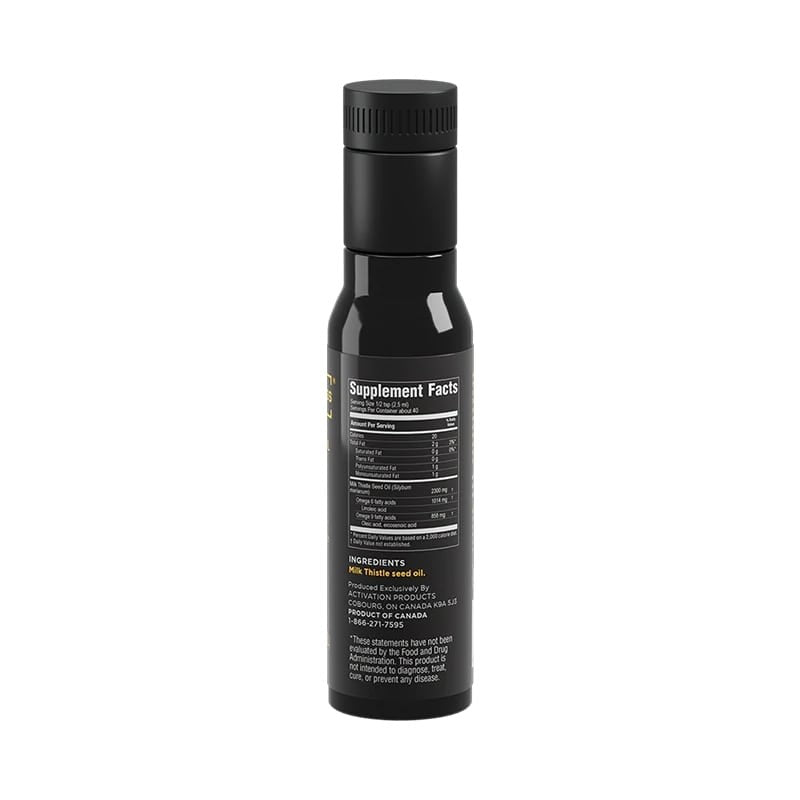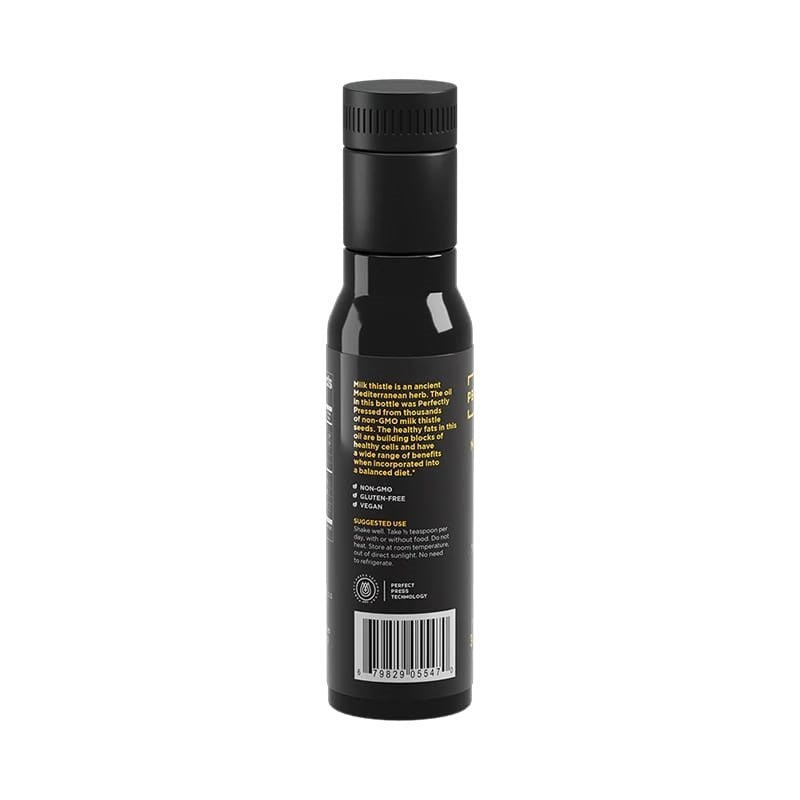 Maintain Normal Blood Sugar
Support Healthy Gut Bacteria
Protect Digestive System
Support Immune System
Keep Your Liver Strong & Healthy
This superfat helps your body in over 67 different ways.
Cleopatra used this superfat for beauty. Queen Nefertiti applied this superfat to her hair and nails to add shine and strength. Hippocrates (the "Father of Modern Medicine") prescribed this superfat for digestive and weight problems. It has been used by practitioners of Ayurveda and Traditional Chinese Medicine for ages to support the body in dozens of different ways. With over 3,300 years of successful use and more than 741 studies Black Cumin oil is the most therapeutic fatty acid ever discovered.
IMPROVED DIGESTION
The Internet Journal of Pharmacology states that this 'mystery' seed oil can help to reduce abdominal fat, maintain healthy blood pressure balance, support healthy cholesterol levels and promote blood sugar stability. As little as 2.5 ml per day has been shown to dramatically affect waist-to-hip ratios, HDL cholesterol, triglyceride levels, fasting blood glucose levels and blood pressure.
Youthful Skin & Hair
Black cumin oil or "black seed oil"—the name some give this superfat—happens to be one of the most studied oils in existence. It has some medical experts calling it the "fountain of youth" because it has the ability to support the body in so many profound ways. Our Perfect Press method produces the purest, most nutritionally potent black cumin oil in the world today. There are absolutely no pollutants, toxins, heavy metals or microbes in any of our oils.
FAQs
Perfect Press® Milk Thistle Oil is one of the best seed oils available in the world specifically because of the way it is made. Perfectly Pressed® from thousands of organic Milk Thistle seeds, each drop of oil is extracted without the use of heat, meaning that there is absolutely no damage to its nutritional properties.
The seeds that we press are of the highest quality. They are sourced from the far western reaches of Europe and brought back to North America to have their oil carefully extracted. While the milk thistle oil is being extracted, absolutely no nutritional value is lost thanks to our proprietary Perfect Press Technology®.
After that the oil is bottled immediately in Miron glass. We add absolutely nothing to it.
Each bottle (if taken as suggested) will last roughly 20-40 days.
Remember, this is a powerful oil and everyone is different. We always recommend trying a small amount first to see how your body reacts before increasing your dose.
Depending on the results you're looking for, there are two main ways to use Perfect Press® Milk Thistle Oil:
1: Drink it
2: Rub it on your skin or into your hair
Suggested Use: ½ to 1 teaspoon, twice daily.
Drinking Perfect Press® Milk Thistle Oil has a whole range of benefits that start with your liver. Rubbing the oil on your skin or into your hair has a moisturizing and nourishing effect. (Be aware that if you do use it in your hair, you will need to shampoo it out).
Perfect Press® Milk Thistle Oil has a smooth, malty taste.
It's actually quite delicious. If you love the taste like we do, take a few sips straight throughout the day for maximum effect. Otherwise, you can add it to some food or water. Applesauce is a popular choice for mixing with milk thistle.
Supplement Facts
Serving Size: 1/2 tsp (2.5ml)
Servings Per Container: About 40
Amount Per Serving
% Daily Value*
Calories
20
Total Fat
2 g
3%*
Saturated Fat
0 g
0%*
Trans Fat
0 g
Polyunsaturated Fat
1 g
Monounsaturated Fat
1 g
Milk Thistle Seed Oil (silybum marianum)
2300 mg
†
Omega 6 fatty acids
1014 mg
†
Linoleic acid
Omega 9 fatty acids
858 mg
†
Oleic acid, Eicosadienoic acid
* Percent Daily Values are based on a 2,000 calorie diet
† Daily Value not established
60-Day Money Back Guarantee
We want you to be 100% satisfied or you get your money back. No questions asked. It's really that simple.